05.02.2020
The first fully modernized Tu-160M missile carrier bomber performs its maiden flight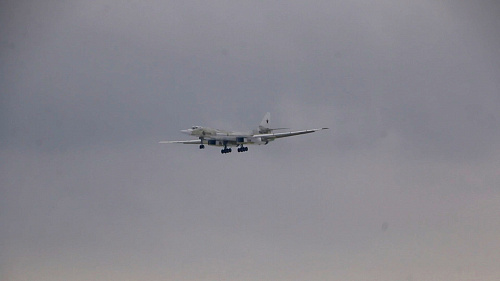 On February 2, 2020 Tupolev PJSC, as part of the United Aircraft Corporation, announces the maiden flight of the first fully modernized Tu-160M strategic missile carrier bomber.
On February 2, 2020 the maiden flight of the first prototype of fully modernized Tu-160M missile carrier bomber, which is based on the combatant Tu-160, took place at the airfield of KAZ named after S.P. Gorbunov – Tupolev PJSC affiliate. The aircraft was piloted by the crew under command of Anri Naskidyants, a test pilot of Zhukovskiy Flight Test and Development Center. The flight altitude was 1500 meters and flight duration was 34 minutes.
During the flight, necessary tests of upgraded systems and equipment installed as part of full modernization of the aircraft were conducted. According to the crew report, the flight was running in the normal mode; systems and equipment have operated without concerns.
Within the framework of full modernization, Tu-160M was equipped with new flight control and navigation equipment, airborne communications system, control system, radar, electronic countermeasures system. The performed upgrading resulted in the considerable enhancement of the total effectiveness of the aircraft system while in the intended use.
The first Тu-160M prototype was built as part of the extensive upgrading program of combatant aircraft systems of strategic and long-range aviation, which is currently carried out by Tupolev PJSC.