09.05.2020
Tupolev. Airplanes of the Victory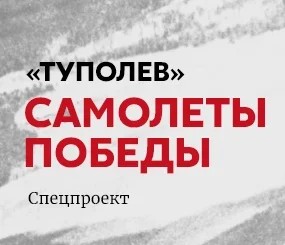 To commemorate the 75th Anniversary of the Victory in the Second World War.
Every year on May 9, the whole world recalls the end of tragic 1418 days of the Great Patriotic War. On this day, our country won the Great Victory over the fascist conquerors.
Tupolev experimental design bureau staff as well as specialists of many other aircraft design bureaus and factories made their invaluable contribution to the Victory.
Since the mid-1920s, Tupolev's airplanes were the basis of the country's heavy bomber aviation, these were heavy all-metal bombers TB-1, TB-3 and high-speed SB.
Leading the charge and taking into account the rapid development of the quality of aircraft equipment in the world, new prospects for the use of military aviation, in the second half of the 1930s, Tupolev experimental design bureau created the long-range high-altitude high-speed bomber TB-7 and the prototype of the serial Tu-2, one of the best front-line bombers of the Second World War.
In addition to creating new combat aircraft for the national air fleet, the contribution of Andrey Tupolev's team and him personally to the development of our aviation in those years was largely characterized by mastering of advanced technologies in aircraft construction. This is primarily the building of all-metal aircraft, rapid adoption of the latest achievements in aerodynamics, introduction of new design solutions, power plants, systems and assemblies of airborne equipment and weapons, as well as the development of a serial production base.
"Tupolev. Airplanes of the Victory" project talks about the work of the Tupolev experimental design bureau during the war years: about designers and engineers, test persons and pilots, about heroes who created the famous aircraft. The project presents archival photographs, documents and previously unknown facts about the development, manufacture, testing and combat sorties of the heavy bombers TB-3, SB, TB-7 (Pe-8) and Tu-2.