09.12.2016
Russian Post has started to operate two cargo aircraft Tu-204-100C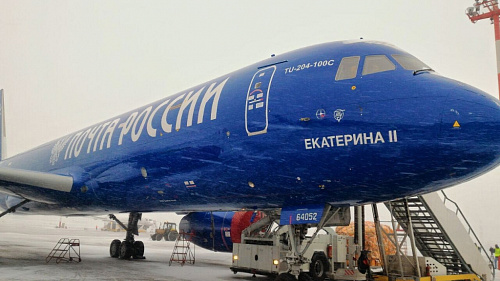 FSUE Russian Post has started the operation of the first two cargo aircraft Tu-204-100C. These first long-range airplanes owned by Russian Post will deliver mail.
Long-range airplanes Tu-204-100C developed by Tupolev PJSC and manufactured by "Aviastar-SP" JSC that are a part of "UAC" PJSC are equipped with fuel-efficient engine PS-90A and are able to carry up to 30 tons of cargo at a distance of 3800 km.
The airplanes are painted in the corporate color of Russian Post. Each aircraft has its own name –"Peter the Great" and "Catherine the Great" in honor of the government leaders who greatly contributed to the development of Russian postal communication.
On December 5, 2016 two cargo airplanes Tu-204-100C MSN RA-64051 and RA-64052 conducted the flight along the first mail routes: Moscow-Irkutsk-Anadyr and Moscow-Nizhnevartovsk-Yakutsk.
Airplanes Tu-204-100C will be actively operated for mail delivery to Siberia and Far East. In the future the airplanes are planned to be operated on international routes including states of Asia-Pacific region.