A monument to Tu-144 aircraft is unveiled in Zhukovskiy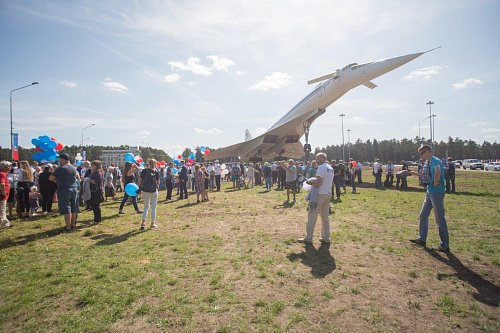 On August 24, a monument to Tu-144, the first passenger airliner in world history to break the sound barrier, has been unveiled in Zhukovskiy near Moscow. It was in this city on December 31, 1968 that the legendary Tu-144 first hit the skies.
The aircraft was installed at the junction of Tupolev Street and Tupolev Highway. In the sky, Su-30, MiG-35, and Tu-95 airplanes greeted the ceremony participants.
The special event was opened by Yuri Prokhorov, Mayor of Zhukovskiy, and Alexander Konyukhov, General Director of Tupolev PJSC. The meeting was also attended by Andrey Tupolev, Advisor to the General Director of Tupolev PJSC, Andrey N. Tupolev's grandson and Alexey A. Tupolev's son, Valery Benderov, Leading Design Engineer of Tupolev PJSC, a son of Vladimir Benderov, Technical Director of Tu-144 Tests, and Alexander Pukhov, Chief Designer of Tu-144LL. Residents of Zhukovskiy, employees of Tupolev PJSC and other aircraft manufacturing companies became guests of the ceremony.
The working group to create the monument included representatives of Zhukovskiy administration, Legends of Aviation Charitable Fund, Scientific and Engineering Company, and Tupolev PJSC. Enterprises and organizations of the city of Zhukovskiy and Moscow Region, volunteers of the Air Force Museum in Monino, and test pilots also took part in the project. Specialists of Tupolev PJSC arranged for a preliminary technical examination of the aircraft, provided necessary drawings, made stress and load analyses. In addition, Tupolev's employees manufactured equipment for transporting and mounting the Tu-144 at the installation site, and took part in the restoration and transportation of the aircraft.
In the future, it is planned to turn the Tu-144 into a museum with a landscaped area, colorful lighting, and a sales point for aviation souvenirs and publications.