70th Anniversary of Zhukovskiy Flight Test and Development Center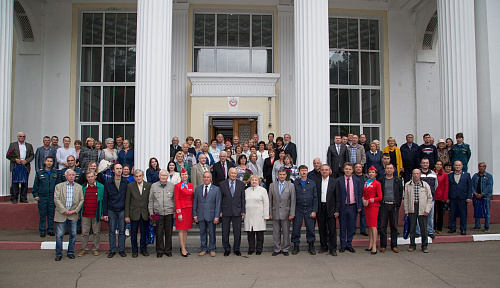 2 August 2019, Zhukovskiy. Zhukovskiy Flight Test and Development Center (ZFT&DC), a branch of Tupolev PJSC, celebrates the 70th anniversary since its foundation. Almost all the aircraft of the Tupolev Design Bureau underwent testing and development tests at the ZFT&DC; more than one hundred thousand test flights were performed by test pilots of the Center. Today the ZFT&DC carries out tasks for modernization, maintenance, testing and development tests of missile carrier bombers and special purpose aircraft, as well as provides training for airline flight and engineering personnel.
The Zhukovskiy branch of Tupolev PJSC was founded at the initiative of aircraft designer Andrey N. Tupolev in 1949. The first hangar was put into operation in September 1950, the first tests of the aircraft, Tu-85 prototype strategic bomber, were conducted at the Center in 1951. Testing and development tests of almost all Tupolev prototype and production aircraft were conducted at the ZFT&DC, including Tu-16 jet bomber, Tu-95 strategic missile carrier, the first Soviet jet passenger airplane Tu-104, the world's first supersonic passenger aircraft Tu-144, the most mass-produced domestic passenger aircraft Tu-154, the world's heaviest strategic missile carrier bomber Tu-160. Test pilots of the ZFT&DC performed more than 100,000 flights for 70 years.
The Zhukovskiy branch of Tupolev PJSC employs 483 highly qualified specialists including 20 members of airborne personnel. The Center has 64 facilities including an up-to-date laboratory and metrological information service. As part of the federal target program, a large-scale reconstruction and technical re-equipment is underway at the Center. Specialists of the ZFT&DC perform tasks for modernization, maintenance, testing and development tests of strategic and long-range aircraft Tu-95MC, Tu-160 and Tu-22M3, aircraft based on special-purpose Tu-204/Tu-214, carry out training of flight and engineering personnel of airlines for the operation of Tu-204/214 family aircraft using integrated simulators.
In conjunction with the anniversary, a solemn meeting of the Center veterans and employees was held at the ZFT&DC on August 1. The event was attended by Yuri Prokhorov, Head of Zhukovskiy City District, Alexander Konyukhov, General Director of Tupolev PJSC, Boris Lipatov, Deputy General Director of the Flight Research Institute named after M.M. Gromov, and other special guests. Veterans of the branch were awarded with honors and souvenirs. Earlier on that day, they took part in the flower-laying ceremony in front of the monument to Andrey N. Tupolev in Zhukovskiy.
Yuri Prokhorov, Head of Zhukovskiy City District:
"Over 70 years of its activity, the ZFT&DC team has made a significant contribution to the development of the Soviet and Russian aviation. I express my deep gratitude to the veterans of the Center for their invaluable contribution, for the fact that they are still in service and share their experience with young specialists who will use it to create and test new-generation aircraft. I have no doubt that the ZFT&DC has many bright discoveries and achievements ahead. I wish great success to all the staff of the test center!"
Alexander Konyukhov, General Director of Tupolev PJSC:
"A lot of airplanes have come from the Zhukovskiy flight test center, starting from the machines that Andrey N. Tupolev personally worked on to modern models of aircraft. Ahead of us are great plans for testing and development tests of the completely modernized Tu-22M3M, Tu-160 and Tu-95MC aircraft, a lot of work on testing the advanced long-range aircraft system in the ZFT&DC. In the future, there is work on the creation of a medium-size military transport aircraft, a new generation supersonic passenger aircraft together with the leading industry research institutes and enterprises. The plans also include the creation and launch of a line maintenance station for Tu-204 and Tu-214 aircraft at the ZFT&DC until the end of 2019."