03.03.2017
UAC President visit to KAF n.a. S.P. Gorbunov – Tupolev affiliate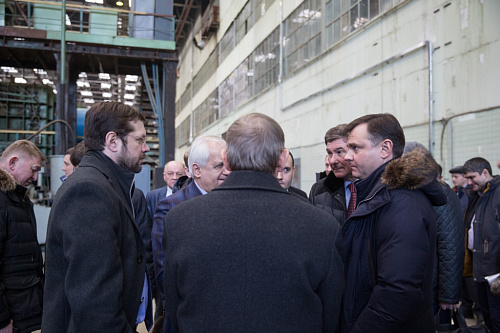 UAC PSC President Yuriy Slusar made a working visit to KAF n.a. S.P. Gorbunov – Tupolev affiliate on February 9, 2017.
The Corporation Head accompanied by Tupolev PJSC General Director Alexander Konyukhov and KAF n.a. S.P. Gorbunov – Tupolev PJSC affiliate Deputy General Director Zufar Mirgalimov inspected work progress of new technologies implementation and factory production capacities preparation under strategic missile carrier bomber Tu-160M2 reproduction program.
Previously Yuriy Slusar took part in joint meeting of Ministry of Economy and Ministry of Industry and Trade of the Republic of Tatarstan with report on main issues of Kazan Aviation factory modernization and Tu-160-M2 reproduction program start.
The President of United Aircraft Corporation reported that due to joint work of Tupolev PJSC and other companies forming part of the corporation on the basis of new technologies and decisions in late 2016 the aviation complex documentation digitizing was completed ahead of schedule. Technical re-equipment of the factory is in progress – about 40% of facilities will be upgraded within nearest few years for Tu-160 prototype production and serial manufacturing start. The key milestone was the recovery of unique technologies of aircraft components production.
"From April 2017 it is planned to start works on electron-beam welding, stove burning and then aircraft manufacturing with new image based on modernized technologies,' – explained Yuriy Slusar.
In conclusion the Corporation Head added that KAF n.a. S.P. Gorbunov – Tupolev PJSC affiliate is and will be the main manufacturer of strategic aviation aircraft.